Introduction:
Running a cleaning business in a bustling metropolis like Dubai presents its challenges. However, scheduling software can be your greatest ally in efficiently managing your cleaning operations. In this blog, we will explore how you can scale your cleaning business with the help of scheduling software. Scaling a business can be daunting, so stay with us until the end, as we provide valuable insights for cleaning business owners looking to expand their reach.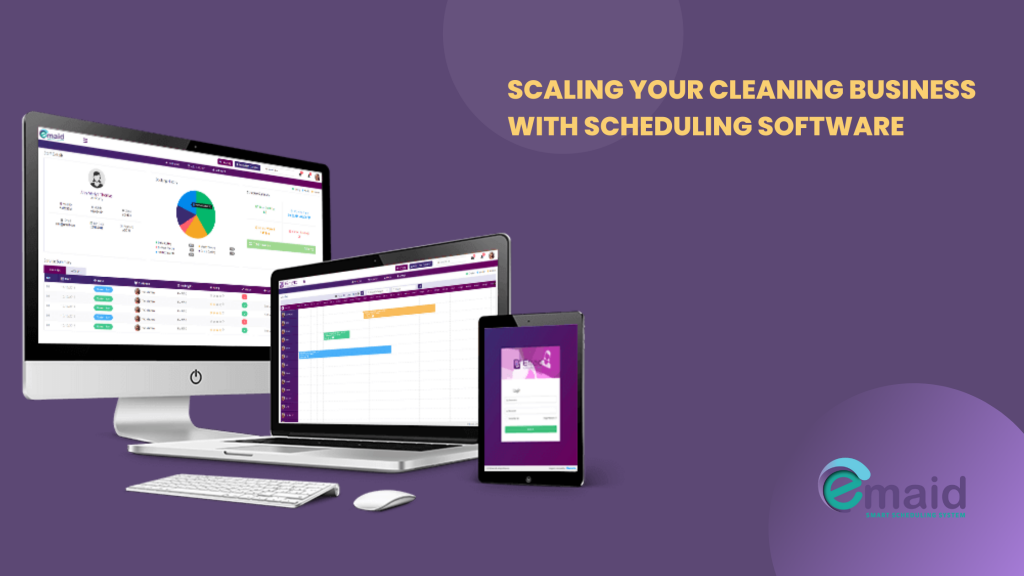 The Need to Streamline Your Cleaning Business in Dubai:
The demand for cleaning services in Dubai continues to rise, driven by several factors:
Rapid Urbanization:

Dubai's urban landscape keeps expanding, creating a constant demand for cleaning services in both residential and commercial areas.
Tourism and Hospitality:

The city's booming tourism industry demands impeccable cleanliness standards in hotels, restaurants, and entertainment venues.
Business Growth:

With more businesses establishing themselves in Dubai, the need for office and commercial space cleaning services is on the rise, which, in turn, increases the demand for house cleaning services.
Real Estate Development:

Ongoing real estate projects generate a continuous demand for post-construction cleaning services.
Given these opportunities, it's crucial to streamline your cleaning business operations to efficiently meet the growing demand.
Tips to Scale Your Cleaning Business with Scheduling Software:
Managing All Cleaning Tasks:
Scheduling software is a game-changer for managing all your cleaning-related tasks. It allows you to:
– Schedule appointments for your customers.
– Assign daily and upcoming tasks to your cleaning team.
– Make real-time changes when necessary.
– Ensure all the resources are allocated properly.
By automating these processes, you eliminate human errors, enhance customer satisfaction, and lay the foundation for your business's automatic growth.
Online Booking Made Easy:
Cleaning company software simplifies the booking process for your customers. They can book your services online effortlessly by:
Visiting your website.

Selecting the desired cleaning services.

Specifying cleaning equipment requirements.

Indicating the number of maids needed.

Making payments online to confirm their booking.
Customers can also view their payment history and outstanding balance, making their lives easier. This streamlined booking process not only fosters customer convenience but also accelerates your business's scaling potential.
Performance Analysis:
Cleaning company software empowers you to manage your business's performance effectively. Data analytics provide valuable insights to identify trends, areas for improvement, and growth opportunities. Consider it your business compass, guiding you towards success.
HR Activities:
From onboarding to payroll management, scheduling software simplifies HR activities, enabling you to oversee your cleaning staff's performance and job completion efficiently.
Reduced Administrative Work:
By automating repetitive administrative tasks such as scheduling, route planning, and timesheet management, you free up time to focus on business growth. Additionally, this eco-friendly approach eliminates paper usage in your company, contributing to a greener environment.
As your cleaning business expands, scheduling software adapts to your changing needs, making it a valuable long-term investment. This software also aids in the automatic invoicing of bills to your customers.
How to Choose the Best Cleaning Company Software:
The best cleaning company software offers:
– Scalability to accommodate your business's growth.
– User-friendly interfaces for both cleaning staff and office administrators.
– Customization options tailored to your specific cleaning business requirements.
– Mobile compatibility for on-the-go access.
– Integration capabilities with other tools like accounting software or CRM systems.
– Excellent backend support.
Final Thoughts:
Emaid, the best cleaning company software developed by Azinova Technologies, addresses all your needs if you're running a cleaning company in Dubai or nearby areas. It streamlines your operations, ultimately facilitating the scaling of your business. If you're interested, visit us now to discover how we can help you achieve your business goals.
Also read: How to revamp the cleaning business with the best maid scheduling software.