To help your business run smarter, Emaid, the smartest scheduler, and complete cleaning company software solution has come up with 5 top tips to make your cleaning business a success.
When you start your cleaning business you may have to go through a lot of challenges. If you make a way to face and smartly overcome these obstacles, you can easily run your cleaning business in the most profitable and flexible way. 
We know that running a business can stress you out as you have to manage and keep track of a lot of things happening around. From scheduling the staff to successfully completing a service, there are countless things to take care of.
Here is a list of the top 5 things you should consider if you are looking to find more growth opportunities in running a cleaning business. 
1. Be A Constant Learner
The learning phase is the most crucial phase you have to consider if you are running or planning to run a cleaning service. Whether it can be residential or commercial cleaning, you always have something to learn. Technology is quicksilver. It may change every other minute. You have to use advanced cleaning equipment for the most efficient and fastest result. 
Focus more on safety. We need our customers to be safe, and hence our products need to be safe for the environment, for the people, and the pets. And there are always several ways for you to enhance your knowledge. Meetings, conventions, reading related articles, and the internet, you have many ways to earn knowledge to keep you up to date with the industry trends.
2. Manage Time
Starting a business, whether it's a small scale or a large scale, it requires a notable amount of work. But when it comes to handling the daily business operations and the administrative tasks, as a provider of maid scheduling software Dubai, we recommend having a foolproof time management plan. You may have to deal with a lot of predictable and unpredictable situations and having a plan B can always be your rescuer. To save your time and effort, you can invest in a technology that can help you.
A maid scheduling software or a cleaning company software allows you to schedule and keep track of daily operations instead of creating manual systems and going around them. Automated systems can help you manage your time and effort in a far smarter way.
3. Automate Your Business Operations
Investing in systems undoubtedly helps to manage your operations seamlessly and smoothly. For example, you can use a maid scheduling software to schedule your cleaning staff. This way you can easily manage the daily schedules of your staff without taking stress. In the same way, you can implement a cleaning business software to take care of all the internal activities of your business. If you are managing them manually, there is a chance for a lot of human errors. It will not only take more time, it can also affect the operations and your business in a negative way. 
Automating your business can help you save a lot of time, effort, and it can also minimize chances for human errors to a great extent. Emaid is the perfect solution if you are looking to automate the entire operation that is happening in your cleaning and maintenance business. As specialists in maid scheduling software Dubai, our team of experts knows every activity taking place inside the cleaning industry from tip to toe. 
Emaid is created as the most futuristic and a complete solution to automate all the daily and administrative operations happening inside a cleaning business – from scheduling the staff to accounting, Emaid has it all!
Emaid is everything that your cleaning business needs as it is a complete cleaning company software solution. Here are some of the extraordinary features of Emaid, the advanced cleaning company software, and maid scheduling software.
A separate web-based module for smartly scheduling staff

Online booking module for the customers to make bookings online

Mobile application for customers

Real-time scheduler for the driver

An accommodation application for the staff

An application for the staff to track their booking

Report generation

Fully blended accounting package

HR and payroll features

Online payment integration

External API integration facility

Call logger and recorder integration facility
4. Marketing Is Important
Are you still following traditional marketing approaches? Well, it is unfortunate to say if you are on the traditional marketing side, the results you can expert can be very minimal. The first stage of a smart marketing strategy has to start with competitor study, their positive and negative sides, and find how efficiently you can serve your clients in a better way.
There may be a lot of competitors in your neighborhood. As a leading provider of maid scheduling software Dubai, we suggest turning digital. People are into digital platforms, and so you. Have a website with all the general information about your services and contact details.
Use social media platforms such as Facebook and Instagram to increase your client base. You can also use other advertising mediums like email and SMS marketing.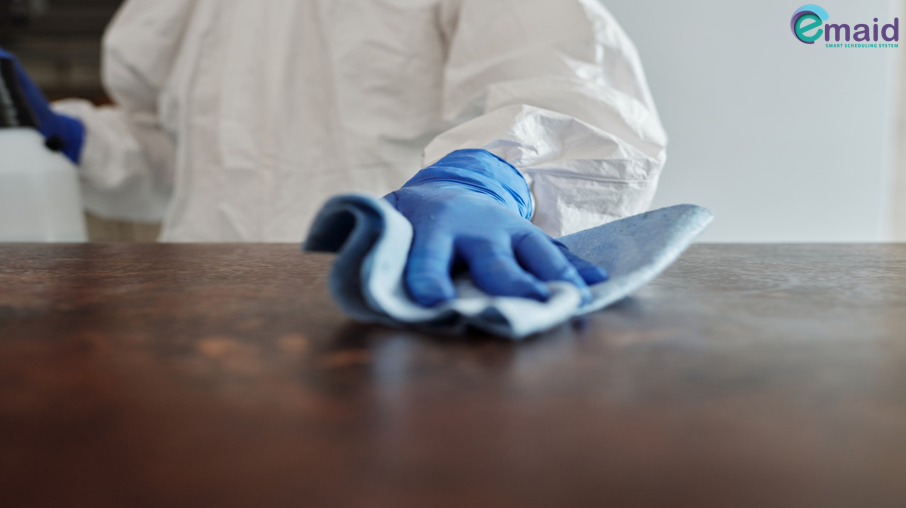 5. Retain Customers
As a cleaning business owner, you always have to find ways to get new customers and retain existing clients. With so many competitors in your neighborhood, it is challenging to retain customers. To repeat the business, it is important to maintain good communication with your clients. Listen to their requirements and provide flexible solutions. Create customized service depending on what they actually need. After the service, make sure you contact them and politely ask your customers how it went. Work on their feedback to make it better the next time. This tactic will definitely create connections and thus ensure business in the future. 
To increase customer loyalty, you can also provide your regular clients with loyalty programs like discounts and offers. This approach will encourage your clients not to switch to a competitor, says cleaning company software specialists. You can also create some discounts or offers for first-time customers to encourage new customers.