Scheduling tasks in a company ensures proper time management, helping the staff to complete their tasks on time. Scheduling software plays a vital role in this process. Many cleaning companies have adopted maid scheduling software to streamline their operations, allowing them to complete tasks on time and allocate their resources effectively. In this blog, we will discuss how cleaning staff benefit from scheduling software. So read this blog till the end. We are confident that, as a cleaning company owner, you will find valuable information for your business.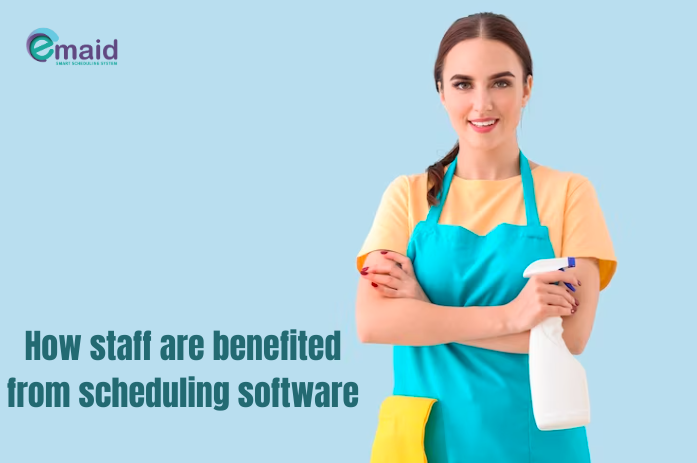 Benefits of maid scheduling software: 
Efficient time management:
Time is the most important commodity in any business. For maids, scheduling software helps cleaning staff make the most of it. They receive live notifications about assignments and task schedules with just a few clicks, allowing them to utilize their time efficiently and improve productivity.
Scheduling software offers flexibility in work arrangements. Staff can easily view their schedules and request time off or swaps. This flexibility promotes a better work-life balance, enabling staff to meet personal commitments without compromising their work responsibilities. A harmonious work-life balance is crucial for staff well-being and job satisfaction.
Administrative burdens are reduced:
The important highlight here is that it completely eliminates the use of paper and automates everything. Scheduling software automates many administrative tasks, allowing staff to focus on what they do best cleaning. In Dubai, where the demand for cleaning services is high, this feature relieves staff from the burden of paperwork and enables them to concentrate on delivering high-quality services to clients.
The advanced accounting feature in cleaning company software allows you to send invoices to customers once the cleaning job is completed. Additionally, the maid scheduling software helps in managing company HR activities, including employee salaries and holidays.
Improves communication in the cleaning company:
Maid scheduling software is a tool that helps all the people working in a cleaning company in Dubai stay connected and communicate easily. It can send messages to everyone, including drivers and maids, ensuring that everyone is informed about what's happening. This ensures that nobody makes mistakes due to lack of information.
This software helps by ensuring that everyone is aware of the current situation, even when the schedule changes suddenly. It's like having a helper who keeps everyone on the same page, enabling them to perform their jobs efficiently and keep the customers happy.
Proper resource allocation: 
Maid scheduling software is a smart tool that helps cleaning companies in Dubai utilize their resources efficiently. It determines the best staff assignments based on their proximity to the job and their skills. This minimizes staff travel time and increases productivity, resulting in cost savings and improved company operations.
Additionally, the software keeps a record of staff activities and performance. This awareness encourages staff to be punctual, work efficiently, and excel in their roles. It is like having a supervisor, ensuring that they consistently perform at their best.
Furthermore, the software analyzes the data it collects, enabling the company to make informed decisions. It's like having a helpful advisor that identifies strengths and areas for improvement. With this software, companies in Dubai can operate more efficiently, save money, and enhance customer satisfaction.
Client satisfaction:
When everything in the cleaning company is done properly, with quality cleaning being consistently delivered, clients will automatically be satisfied. They will choose the same cleaning services again and again, as clients in Dubai only accept quality services. This, in turn, makes your business profitable and well-organized.
Emaid is your ultimate cleaning company software.
Emaid is the leading cleaning company software that can assist in scheduling all activities and staff resources. Many top cleaning brands in Dubai have been using our software and enjoying its benefits. To learn more about Emaid's features before making the best decision, visit our page and contact us now.
Also read: Optimizing Employee Schedules of the Cleaning Industry with Scheduling Software