How does Cleaning management software benefit your business?
In this digital era, it is very important to automate your business to stay in the market and it is the need of the hour.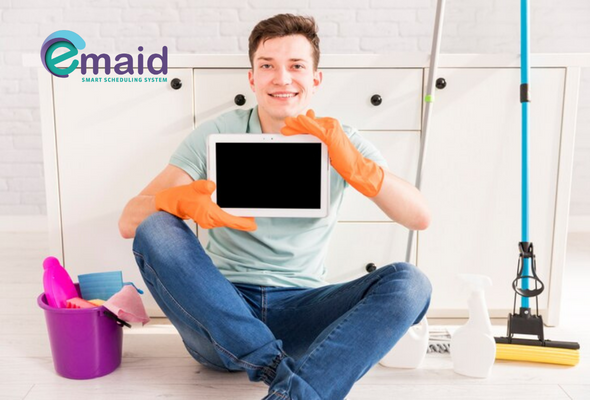 Dubai is a hub for all types of businesses where companies are going digitally day by day.
If you are running a cleaning business then this blog is for you.
In this blog, we will help you to understand step by step how cleaning management software will help your business.
So what is cleaning management software and how does it help you in your business? 
Suppose Adam is running a cleaning business in Dubai which is not automated he has to do all the work manually since he has no idea about automation and its benefits.
The major problem that he will face is that he has to do all the work manually where errors will happen and he will not get enough time to improve his services or listen to customer feedback and thus he will lose his business.
If Adam starts to use cleaning management software he will not face any kinds of problems and 
He will get more time to improve his services and interact with customers.
Cleaning management software helps to automate your business which means all the tasks that you had to do manually earlier can be automated using cleaning management software.
Ways through which cleaning management software can help to automate your business.
Attendance management

:

Attendance management

in any organization is the most important part to run that organisation an

automated software

will help you to check if all the staffs are present or not.
It is not possible to handle this task manually as there is a high chance of errors with automated software you can check the attendance at your fingertips.
You can even track if the maid is late for work or in reaching the client's site
Emaid which is a product of azinova technologies is the best-automated cleaning management software that helps you to keep a track of the attendance in an organization. When a proper attendance track record is maintained productivity of that organization will increase.
Shift scheduling

if a cleaning company in Dubai is handling the task of assigning work to its maid in a manual way it will be tiresome and sometimes errors will happen, and the staff may not get proper instructions regarding their work timings an

automated cleaning company software

will help you to assign the shift to your maids automatically as per your company needs and requirements. This software makes

cleaning staff management

very easy.
Online booking system for cleaning service:

A

cleaning company software

can help your customers to opt for your services using an online booking system all they have to do is to fill out an online form and they can opt for services as per their needs. The maid booking is done automatically and time slots are assigned accordingly.
Smart scheduler software   

With the help of a

cleaning management system

it is easy to assign a task to each and every cleaning staff and this will not create confusion unlike the manual way of doing so. it operates on multiple operating systems and it is very easy to handle with a small amount of training. 
Trying to organise salaried employees when you have thousands of people, various locations, and numerous variables to govern might have you ripping your hair out. Many scheduling systems are developed using technologies such as Excel sheets or simply pen and paper, which only adds to the headache.
These types of cleaning company software are generally a very good business solution and make all the tasks easier in a business organization.
Payroll software

  A cleaning company software like

emaid

  generally has a good feature of payroll software with this it is very easy to manage the payments given to staff it makes everything smooth in a company it reduces the number of errors because if the same task is done manually there is a chance that a good number of errors may happen.
A good cleaning company software will allow customers to make safe transactions while making payments for the service and will generate a proper invoice for them.
Software like Emaid has always been a game changer for all the cleaning companies in Dubai and has helped them to double their business revenue by completely automating it.
Do check out our other blogs to know more about our services.
If you are a cleaning company in Dubai looking to completely automate your business contact us we will help you.