How a scheduling software Can Transform Your Cleaning Service Business in 2023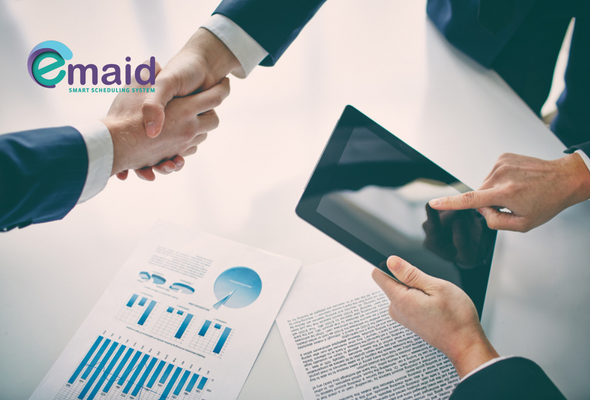 We are living in a digital world, and everywhere people are adopting the digital medium for everything from communication to entertainment. The world has shrunk because of digital intervention.
Every year, businesses in Dubai spend millions of dirhams to automate their businesses.
And being digital is the need of the hour for every business at this stage.
Through this blog, we will be discussing with you "How scheduling software can transform your cleaning business in 2023."
Importance of Scheduling software for a cleaning business in Dubai
Scheduling a task is the most important part of a cleaning business in Dubai, from assigning a task to your maids to keeping a time record of all the activities in your business. This will help you monitor all the activities in your business and will help you maintain proper time management for your cleaning business.
This can be achieved by using scheduling software, which will help you maintain and schedule everything for your business. We maintain customer information as well as information about all of your maids in a well-defined analytical dashboard. This software helps you know which maids reached your customers on time, and your customers will get information about all the maids if they are late.
Emaid by azinova technologies will assist you in keeping all of your business activities on schedule. 
Booking software for your cleaning business in 2023
A scheduling software should have a booking system for all your customers. This feature helps all the customers book everything in advance. An online, responsive form is provided to your customers so they can book your services online. This helps scale your business in the digital world. Your customers can select their time slots as per their wishes; this feature gives them a free hand and gives a boost to your business.
How to utilize the best scheduling software in 2023 for your cleaning business.
The best scheduling software in Dubai can transform your cleaning business digitally, and ServiceMaster in Dubai is the best example of that.
Here are the ways your business will change with the help of this software.
As previously stated, smart scheduling software can not only assist you in maintaining your scheduling activities in your cleaning business or online booking for your customers.
Your entire business operations will be paperless; yes, this software will make your entire business go paperless and transform your cleaning business digitally, and it will save you time.
A call logging module will help you greet your customers and know their exact location, booking status, and outstanding balance.
An advanced HR payroll and management feature offered by this software will help your company pay your employees' salaries on time and know the status of their working hours, overtime, etc.
Customers use this software to securely make online payments with their credit cards.
Data migration is possible from any software to this one with the integration of an external API.
An application is provided to customers that work on both Android and iOS to help ease the difficulties of booking a system.
The admin panel will allow the owner to track the analytical report of all the operations with ease.
Now is the time for you to make the right decision with the right scheduling software for your cleaning business.
Now change your cleaning business with Emaid the best cleaning software.
Yes, it is correct. Emaid is the elixir (smart scheduling software) that will undoubtedly transform your cleaning company.
It has all the features that we have mentioned above, and many cleaning businesses have benefited from them.
So if you are a cleaning business in Dubai, why don't you try this smart scheduling software that will change the fortune of your business?
If you are interested in working with us, visit our website.
Read previous blogs to know more about us.