Features of the best Cleaning Service Management Software in Dubai?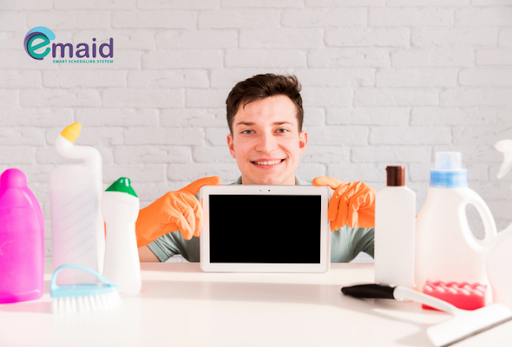 Cleaning service management software gives business owners and employees the tools they need to manage clients, employee scheduling, time tracking, invoicing, reporting, and more, Emaid was designed so that whether you are the office or clients house, you have the tools at your fingertips to manage, organize and grow your business with best cleaning service management software in Dubai.
Emaid have a customer mobile application
Yes it has a native customer application under your business name and it is very beneficial to your customer.This Cleaning Service Management App  works well on the latest Android versions and IOS versions. Emaid Mobile application allows customers to book cleaning appointments through their mobile phones and offers better features like booking history, payment history, outstanding balance, and more
Emaid have a Driver Tablet application in the cleaning service management software
By using the Emaid Driver Tablet application your driver gets all kinds of notifications instantly. Which is an android application you can instantly notify your driver about their daily schedules, Booking details, and real-time booking changes with push notification alerts. This application allows drivers to collect cash payments. They can start and stop maid services when they reach the customer location. When you are adding new bookings or changes in Cleaning Service Management Software  your driver will get a notification about these changes and it comes with a work progress tracking feature.
Emaid have an Admin application
By using Emaid admin application you can analyze your daily reports by using a simple Cleaning Service Management App. It shows information about a particular business day and tracks working hours, payments, number of cancellations, and number of bookings. The best feature is that you can track monthly business performances or weekly business performances from your mobile phone. An advanced feature is that you can track your drivers and staff in real time with google maps from anywhere in the world. Emaid helps your team be informed of the most up-to-date schedule with push notifications.
Emaid have an Advanced HR & Payroll
By using Emaid cleaning service management software you can effectively manage your business HR and payroll activities including their overtime, and Working on holidays. The advanced features enable automatic payroll calculation. You can easily download the sif file for your WPS account.
Emaid have an Advanced call logger feature and recorder integration
It is an excellent option to understand your customer before you take the call and greet them with their name. This cleaning management service software shows you the details such as name, outstanding balance, location, etc. The recorder features are used for recording all the conversations for quality and training purposes.
Emaid online payment system 
In this cleaning management software you will get an online payment feature for your valuable customers to make the payments for your cleaning services. By using your credit or debit card you can do the payment for all of your recurring cleaning services in a fast and safe way.
You can see more package details and features on our website.