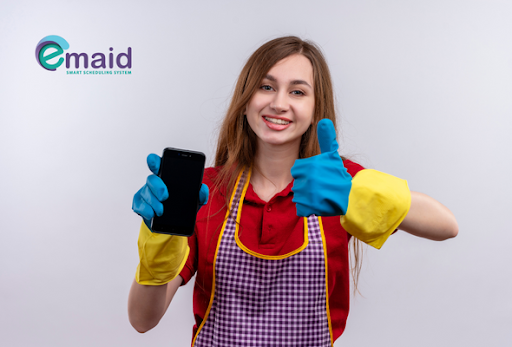 Cleaning business software is a type of software that is specifically designed to help manage and streamline the operations of a cleaning business. It can include a variety of features such as scheduling, job management, invoicing, employee management, customer, and reporting. Emaid is one of the top cleaning business scheduling software in Dubai.
Cleaning business scheduling software compatibility 
Compatibility is an important aspect to consider when choosing cleaning business software. The software should be compatible with your current systems and devices in order to ensure smooth integration and operation. Here are a few key compatibility considerations to keep in mind when selecting cleaning business software for your cleaning business:
Operating system: The business scheduling software should be compatible with the operating system(s) that you use on your devices and servers, such as Windows, Mac, iOS, and Android.
Hardware: The business scheduling software should be compatible with the hardware that you use in your cleaning business, such as laptops, tablets, and smartphones.
Internet connectivity: The maid scheduling software should be able to function properly with the internet connectivity that you have available in your business, such as Wi-Fi, Ethernet, and cellular data.
Technical support: The cleaning company software provider should offer adequate technical support, in case you have any issues or questions about the software.
Scalability of cleaning company software
Scalability is an important aspect to consider when choosing cleaning company software, as it refers to the ability of the software to adapt to the changing needs of your business. A scalable cleaning company software should be able to grow and adapt to your business as it expands and changes over time.
Here are a few key scalability features to look for in cleaning business software:
Flexible package: The software should offer flexible package options that can accommodate the growth of your business. This includes the ability to add users or services as needed.
Advanced accounting and payroll features in cleaning management software can help businesses manage their financial transactions and employee payments more efficiently.
API: A good cleaning company software should have an API (Application Programming Interface) that allows easy integration with other software and systems.
Why Emaid smart scheduler software?
Emaid smart scheduler software is designed to help cleaning companies manage their operations more efficiently. It can help with scheduling, invoicing, customer management, and employee management. It can also provide valuable insights into business performance. Overall, cleaning business software can streamline processes, save time and money, and help a cleaning company grow and be more successful.
By choosing a scalable and compatible cleaning company software, you can ensure that the software can adapt to the changing needs of your business and continue to support your growth and success in the long term. And you can ensure a smooth transition to the new software and minimize any disruptions to your business operations.
Emaid is the best cleaning company software that will have features that are tailored to the specific needs of cleaning companies, and will be easy to use, accessible and intuitive.