Cleaning Company Scheduling Software for Dubai Organize Your Cleaning Services Effortlessly
Azinova Technologies is one of the best software development companies in UAE, India, Qatar, Canada and UK with over 15 years of experience in a strong marketplace and has been empowering its customers with professional and innovative business solutions. We offer premium cleaning company scheduling software for cleaning companies and maintenance companies.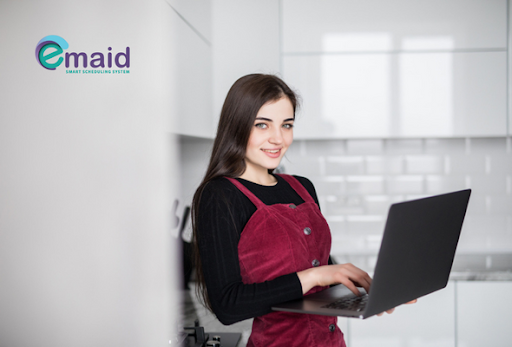 Emaid helps you to manage your cleaning business effectively by reducing manual intervention. You can totally change to an automated solution and save your valuable time for scheduling the jobs, managing booking, and a well controlled payment system. We recommend E-maid smart scheduling software for all cleaning companies. Emaid simplifies and automates your field process and gives you more time to focus on your core business. We offer you the most professional, cost effective, competitive and hassle free cleaning company scheduling software.
Efficiently manage your cleaning company operations with our user-friendly software
Cleaning management software can streamline and simplify the operations of a cleaning company by automating tasks such as scheduling, and invoicing. It can also provide real-time visibility into the performance of cleaning staff, allowing managers to make more informed decisions and improve overall efficiency. This can lead to a more organized and productive cleaning business.
Emaid is a user-friendly cleaning management software designed to be easy to use and navigate for all users, regardless of their technical expertise. It features a simple, intuitive interface that makes it easy for cleaning staff and managers to access and utilize the various tools and features. This can help to reduce the amount of time and effort required to manage cleaning operations and allow users to focus on growing their business. This user-friendly software can help to improve overall productivity and efficiency by making it easier for staff to access and utilize the tools and features they need to do their jobs.
Manage your cleaning jobs and schedule at the touch of a button
Emaid cleaning management software allows you to manage your cleaning jobs and schedule at the touch of a button can simplify and streamline the process of scheduling and dispatching cleaning staff. With this software, you can easily create and edit cleaning schedules, assign jobs to specific staff members. You can use the housekeeping scheduling software to quickly and easily dispatch staff to new jobs, ensuring that your cleaning operations are running smoothly and efficiently. This feature can save time and improve the overall organization of your cleaning business in Dubai.
Streamline billing and payments for a more seamless financial transactions.
Emaid cleaning management software that includes a quality payment system can streamline the billing and payment process for a cleaning business. This feature can automate the invoicing process, allowing you to easily generate and send invoices to clients. The software can also include options for clients to view and pay their invoices online, eliminating the need for manual payment processing and reducing the chances of payment errors or delays. This feature can also provide a more secure and efficient way for clients to pay for cleaning services, and enable the cleaning company to keep track of payments and manage their cash flow.
Implementing a scheduling software can help businesses to focus on growing their business and providing excellent service to their customers. With features such as real-time tracking, customer management, and reporting, cleaning company scheduling software can help businesses stay organized and competitive in today's fast-paced market. By investing in the Emaid software solution, cleaning companies can not only enhance their performance but also improve customer satisfaction and grow their business.