Best smart scheduler software for cleaning company?
Implementing new software solutions in your cleaning business is now very easy by using our maid scheduling software. The features that come with cleaning company software can help automate actions that include scheduling, booking, tracking, invoicing, alerting, accounting, reporting, and more. By using the smart scheduler, this software automates the staff scheduling activities of your cleaning company and your staff receive their daily tasks.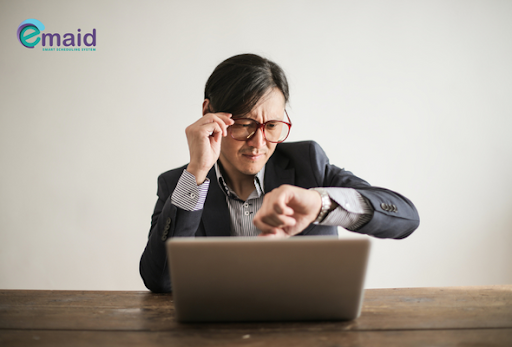 Choosing the best smart scheduler software for a cleaning business in Dubai is a bulky process that involves a lot of planning and review. Before you choose your ideal cleaning business software, you have to assess your needs and consider the available cleaning business software options thoroughly.
Emaid is a smart scheduler software that offers several dynamic features such as software that automates staff scheduling activities, a professional dashboard to represent business matrices and more. For cleaning companies that desire to change old methods such as paperwork and other outdated practices, by using these methods can accelerate and simplify cleaning business operations with a native mobile app and a favorable web portal.
If you are searching for the best cleaning company scheduling software that is cheap and flexible. Emaid could be a great option for cleaning businesses of all sizes. It is one of the best smart scheduler software for a cleaning company because it has good features and very innovative software products for your cleaning company some features of a good smart scheduler are customer booking. The customer online booking feature is a website integration module Emaid contains a booking form for your customers to easily book appointments online through your website and the customer mobile application is allow customers to book your services via mobile application. One thing is that you can notify your driver about daily schedules. The Emaid software comes with advanced accounting features to manage your business payments and invoice and this software help to manage daily expenses and monthly expenses. It comes with online payment options for customers to make payments to your services. 
Emaid is particularly designed as a real-time management solution for field service and office service for cleaning company software. A complete business solution developed for the cleaning business. This could greatly help the cleaning companies by smartly solving, and organizing various business processes. Also, if you have a small company with a few staff or a bigger company with a lot of staff, Emaid scheduling software makes your job easier.
Emaid has various packages for your business to choose from click to view the packages or you can contact the Emaid sales team for more details